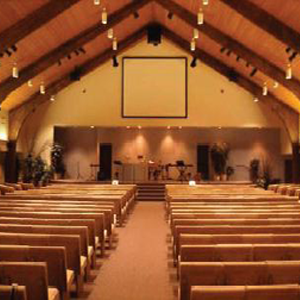 This blog post has been re-purposed from a "Listen User Profile" of actual Listen customers detailing their experience with Listen Solutions.
When Pastor Mark Ailanjian at the
New Heights Church
in Vancouver, Washington needs to be outside the main sanctuary during Sunday services, he has a simple solution to monitor the proceedings.
He dons a
Listen Technologies Corporation
wireless receiver and headset, and goes about his business on the 17-acre church campus. He might be in another building when he hears that the offering has begun. Then he heads back to the sanctuary for the presentation of the gifts.
"That's not always at just the same point in the service," Ailanjian said. "I wear the system so I can know when the next step is happening." He's not the only one. The senior pastor at the 5,000- member congregation has to be in and out of the service as well, there for the opening prayer, and maybe off to the Welcoming Center for part of the service, always returning in time for the sermon.
The
New Heights Church
purchased the wireless assistive listening system more than three years ago as a means to help the elderly and others with hearing disabilities hear the services clearly.
The
Listen
system transmitter takes sound from the main microphones and routs it over wireless FM radio waves directly to the small battery-powered receivers worn by listeners. The receivers send the sound through the headset or ear bud to the parishioners' ears, allowing those with hearing impairments to enjoy the full spectrum of sound without the garbling effects of interference.
Since New Heights purchased its system, at least several of the 16 units are used at every one of the eight services offered every weekend. In addition, New Heights takes the system with them for off-campus events. Coordinating a church picnic or calling the group together at a community bowling or paint-balling event becomes much easier with Listen.
"We even use it as a paging system," he said. "We ask someone to pick up a lost child, or escort someone to the first aid station."
But more often than not, it's the young mothers who use the Listen system at
New Heights Church.
"It's mostly nursing moms who need to step out of the service but who want to hear what's going on," Ailanjian said. "Sometimes they have crying babies and don't want to disturb other people. Or sometimes they listen to the service while their toddlers play on the playground."
Ailanjian said he's been pleased not only with the quality auditory assistance systems but also with the many other uses."It's been a trouble-free system," he said. "I'm very pleased with how they've served us."