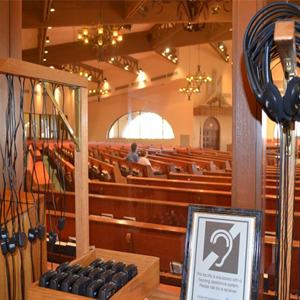 This blog was originally posted at The Sahuarita Sun. Read original post >>>
In technology time, the idea of "looping" to help those with hearing loss hear better is ancient. But everyday, there still are people with access to better hearing who aren't using it.
In
Green Valley
, that could amount to quite a few, as at least a third of the over-60 population is estimated to have some level of hearing loss, and half of the over-75 crowd, significant loss, says Lou Touchette, a Green Valley resident who found help for his own hearing loss through looping technology, and has installed the wire system in numerous facilities throughout Tucson and Green Valley. He's also part of the
Arizona Loss of Hearing Association
(ALOHA), a non-profit support group for the deaf, hard of hearing and their families and its
"Let's Loop Tucson"
initiative to equip as many rooms and facilities as possible, making it easier for the hearing impaired to hear with more clarity.

The Technology
Looping technology has been around for years, and more than 80 percent of hearing aids have a loop called a telecoil, or t-coil — a tiny spool of wire that converts sound from a microphone, TV or radio into magnetic energy that fills a room, helping users hear with less background noise. Every hearing aid manufacturer has a t-coil model, said Dr. John Cobb, an audiologist with
Arizona Hearing Specialists
in Green Valley. But probably 20 percent of hearing aid owners don't use them, he says.
Many don't know whether theirs has a t-coil, and if it does, how to activate it, he said, noting that Arizona is one of the few states in which hearing aid sellers must, by law, indicate on the purchase contract whether a hearing aid has a coil.
Some people don't use their hearing aids at all, often because they're in denial about hearing loss, Cobb said. As speech-discriminating skills start to fade with age, depression, anxiety and paranoia can result, according to a National Council on Aging survey. But once a person accepts hearing loss, the fix is relatively simple for most, say fans of looping, which has become so popular in Green Valley that it is now one of, if not the most-looped, areas in the United States. Maybe even only second behind Holland, Mich.
"I've heard that, but don't think it's documented," Cobb said. A transplant to Green Valley from Texas three years ago with hearing loss of his own attributed to playing in a rock band when he was younger, Cobb sees many patients who can't admit they need help.
With about 30,000 part- and year-round residents in Green Valley and its abundance of senior citizens, it's likely that at least 10,000 people here have some hearing loss, many of whom could benefit from looping, Touchette said. For some, it might only involve activating a switch on a t-coil hearing aid they already have.
And Green Valley's getting looped, alright. The first known hearing loops were installed in
Green Valley Recreation facilities
in about 2004, said Shelly Freeman, GVR lead sound and light technician. For a year, she researched ways to improve sound quality for patrons of the organization's major social halls before deciding on looping.
"Nobody in Green Valley or Tucson was doing it at the time," she recalled. Years later and with the understanding that no system is perfect, especially with a microphone moving around with a performer on stage, she still calls looping a good investment. Coaching the hearing impaired on how to set their hearing aids for the right size room and type of event was a challenge partially met through loop workshops, but is ongoing, she said. While t-coils were originally designed to amplify a land-line telephone, there are many more magnetic sources now that can be "heard" by a coil-equipped hearing aid. The newest challenge is that users start with a phone volume and don't adjust it for a large-room setting, Freeman said. Settings differ for a soloist and a full concert, and can even be adjusted to minimize a robust horn section so other instruments and vocals don't get lost. "Not a lot know they have these options," she said.
Freeman favors the t-coil system over others on the market because it allows a dignified way for the user to hear better without letting the world know they need help. T-coil equipped hearing aids can be worn over the ear, in the ear or as a plug in the ear canal. Those without t-coil aids can use a portable receiver, which picks up the magnetic sound and channels it to a headset.
It's so new, officials are still getting their heads wrapped around it, so to speak, said SAV President Wilma Ludwig. It was installed just before the last meeting with no time to notify attendees in advance. Ludwig isn't sure how many will benefit but said the group plans to purchase headphones for those without t-coil hearing aids.
"We're also hoping that, with the receivers, maybe by trying this people will realize their hearing is not what it should be," Ludwig said. "I'm glad we have this and will encourage people to use it."
Cost-wise, getting looped runs $250 to $300 for a home installation, and $2,000 or more for a church or other large venue, depending on complexity, said Touchette, who also teaches classes on how to install loops in the home. He lost much of his hearing driving farm tractors as a kid then later working as a jet fighter mechanic without much ear protection. He eventually developed tinnitus, a ringing in the ears, and in 1977 was diagnosed with severe hearing loss. In the 1990s, he joined a self-help group for the hard of hearing where he learned about telecoil technology, and has been an advocate for it since.
After moving to Arizona, he joined the ALOHA board in Tucson and took on the "Loop Tucson" challenge, part of which involves giving demonstrations on looping and training workshops. In 18 years, he has installed 100 loops.
Cobb said he's been told by patients how much t-coils have changed and improved the quality of their life. One of Freeman's fondest moments involved a GVR stageplay actor several years ago who couldn't hear his cues. She said she asked him if he had a telecoil but didn't know how far the loop extended into the stage area. They tried it and discovered it worked, and at the next rehearsal he was on time with all his cues without any help.
Generally, the loops in all GVR facilities work well, she said. "We get good feedback from members."
She welcomes any GVR member wanting to know more about the system and would consider offering workshops again if there is interest, she said.
Printed with permission from the author, Kitty Bottemiller.