References
Download PDF
PROJECT:

Beijing Foton Daimler Co., LTD (Chinese)

PRODUCT: ListenRF

LOCATION: Beijing, China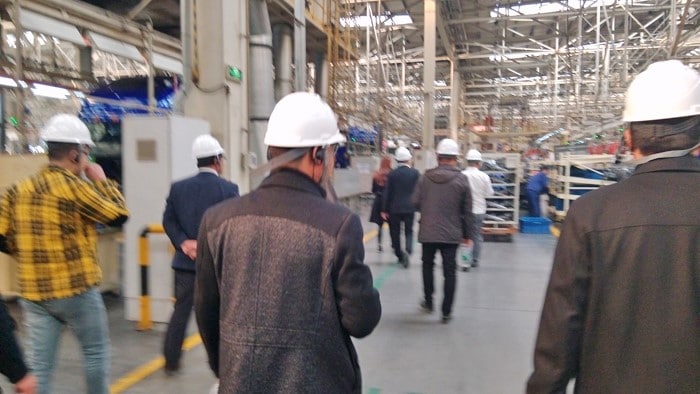 北京福田戴姆勒汽车有限公司配备的"美国LISTEN品牌无线同声传译、语音导 览系统"主要实现客户参观工厂时的移动讲解使用,不受现场噪音影响,也不 为现场增加噪音,清晰有效地将讲解内容传输到每一位客户的耳机里,大大提 高参观效率和效果。北京路明公司凭借多年的同传(同步翻译)会议系统、语 音导览系统成熟经验,为客户不断提供优质的语音产品及保障的售后服务,得 到客户一致好评。
Beijing Foton Daimler Automotive Co., Ltd (BFDA) installed Listen Technologies ListenRF wireless simultaneous interpretation system and ListenPortable audio tour guide system. The system enabled the tour group leader to deliver clear sound and clarity to every visitor without interference, enhancing the effectiveness of the tour. Beijing Roadlink has years of experience with simultaneous interpretation systems and audio tour guide systems, providing high quality audio products and customer service winning unanimous praise from customers.
SYSTEM COMPONENTS
ABOUT
北京福田戴姆勒汽车有限公司总投资99.506亿元人民币, 注册资本56亿元人民币,福田汽车和戴姆勒双方股比50 :50,将生产戴姆勒许可的排放标准和动力分别达到欧V和 490马力的梅赛德斯-奔驰OM457重卡发动机和福田汽车现有
的"福田欧曼"中重卡产品。
BFDA, with total amount of investment of 9.95B RMB and registered capital of 5.6B RMB, was established with Foton and Daimler each holding a 50% ownership, which manufactures Daimler-licensed 490hp Euro V Mercedes-
Benz OM457 heavy-duty engines and Fonton's Auman series of medium and heavy-duty trucks.
福田戴姆勒汽车以用户为中心,链合戴姆勒、康明斯和福 田汽车集团,集成德美中三方优势技术,提供具有德美标 准、绿色智能的高端重卡产品。同时整合三方服务优势资 源,为用户构建开放、互通、互容、共享的产品全生命周  期服务平台,打造人、车、生活可持续发展生态系统。
BFDA is a user-centric company, along with Daimler, Cummings and Foton, integrates advantage technologies from Germany, US and China, provides green highend heavy-duty trucks which complies German and US 
standards. BFDA uses service resources from three sides, to construct a product lifecycle service platform which is open, connectivity, and shared and create sustained development ecosystems for people, vehicles
and life.