References
Download PDF
PROJECT:

Dallas Cowboys Stadium

PRODUCT: ListenRF

LOCATION: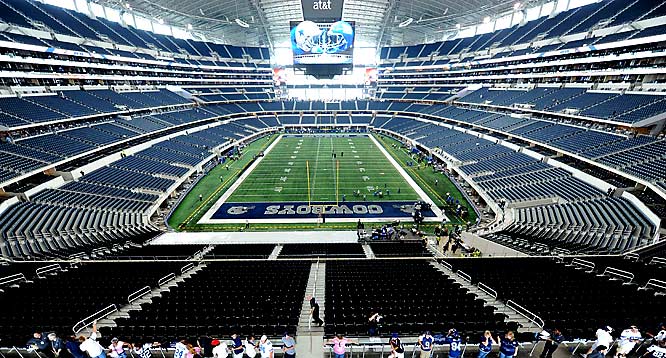 With up to 100K crowd capacity, the Dallas Cowboys stadium is what you would call one of the largest, AV advanced sports and entertainment venues. In addition to the largest retractable roof and end zone doors, Guinness World Records awarded DCS the record of largest video display.
With such a large project, there were many people involved. Kevin Day, of Wrightson, Johnson, Haddon & Williams, Inc. acted as the Lead Consultant on the project. Representatives from Pro Media/Ultrasound acted as dealers and prime AV systems integrator. And LANTEK Communications and Admiral A/V acted as cable subcontractors.
Listen Technologies was specified for the public auditory assistance system and a cueing / information monitoring system for the press (IEM). Along with quantities of the LR-400-216 receivers, ear-speakers, neck loops, and ADA compliance signs, two LT-800-216 transmitters are utilized for simultaneous transmitted channels. While the primary function of the secondary channel during sport events is for relaying statistics and press information, it may also be used during special events for language interpretation. The 216 MHz frequency band transmitter and receivers were specified for their transmission range capabilities of up to 3,000 ft. (914 m) and use of up to (3) three simultaneous channels.
A similar solution has been used by numerous other stadiums across the country, a few of which include Seahawks Stadium, Coors Field, and Lambeau Field. Many other types of major sports venues across the country also use the same technology. Next time you visit one, ask for an ALS receiver to experience it for yourself.
SYSTEM COMPONENTS
• LT-800-216 Stationary RF Transmitter (216 MHz)
• LA-122 Universal Antenna Kit
• LA-326 Universal Antenna Kit
• LR-400-216 Portable Display RF Receiver (216 MHz)
• LA-164 Ear Speaker
• LA-166 Neck Loop
• LA-361 High Capacity AA Alkaline Batteries (2)
• LA-304 Assistive Listening Notification Signage Kit
ABOUT
The Dallas Cowboy Stadium (AT&T Stadium), is one of the most recognized stadiums in any sport. Newly built in 2009, the stadium exterior features a design that has a canted 800 foot glass wall. 292 foot arches span the length of the stadium and support a retractable roof. The stadium has main seating capacity of 80,000 and is expandable by another 20,000 seats for larger events.