References
Download PDF
PROJECT:

Lambeau Field

PRODUCT: ListenRF

LOCATION: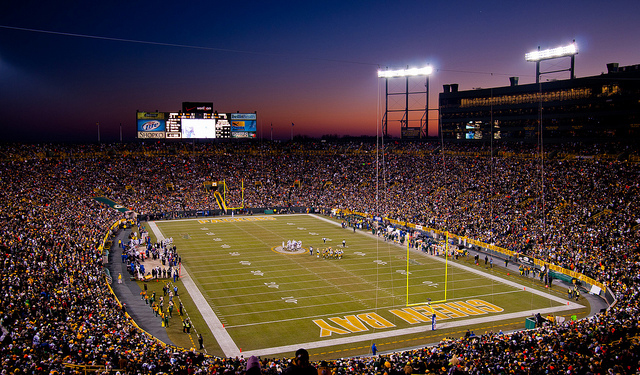 Any stadium includes plenty of history, excitement, lots of sports fans in attendance, and an overwhelmingly high level of wireless technology to keep the lines of communication open.
ListenRF systems offer 57 frequencies, which is ideal where there are a large amount of other RF products in use. This system was chosen by Lambeau Field for fans who need assistive listening receivers to hear the sound system. Some fans may not be able to be hear, due to hearing difficulties, background noise, or poor acoustics. An RF transmitter transmits the sound to small receivers and earphones worn by fans, so they can hear.
The 216 MHz frequency band transmitter and receivers were chosen for their transmission range capabilities of up to 3,000 ft. (914 m) and use of up to (3) three simultaneous channels. Similar Listen Technologies systems are used in numerous other stadiums across the country, a few of which include Seahawks Stadium, Coors Field, and Dallas Cowboys Stadium. Many other types of major sports venues across the country also use the same technology.
SYSTEM COMPONENTS
• LT-800-216 Stationary RF Transmitter (216 MHz)
• LA-122 Universal Antenna Kit
• LA-326 Universal Antenna Kit
• LR-400-216 Portable Display RF Receiver (216 MHz)
• LA-164 Ear Speaker
• LA-361 High Capacity AA Alkaline Batteries (2)
• LA-304 Assistive Listening Notification Signage Kit
ABOUT
As one of the NFL's premiere franchises, the Green Bay Packers have a solid championship record—13 non-losing seasons in a row starting in 1992—and they are the only non-profit, community-owned major league professional sports team in the United States.