Two-way communications product makes it easy for team collaboration in noisy factory environments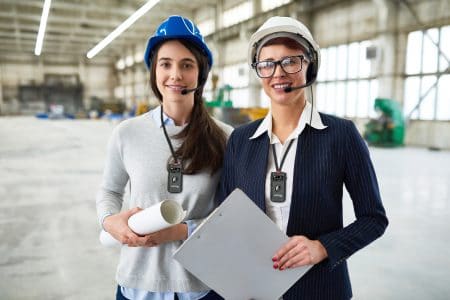 BLUFFDALE, UTAH – April 6, 2018 – Listen Technologies, a leading provider of assistive listening products for 20 years, is demonstrating its mobile two-way communication product, ListenTALK, at Reliable Plant 2018 Conference & Exposition in Indianapolis this week. ListenTALK is shipping globally and has been positively received by end users who value the product's range, affordability and ease of use.
ListenTALK enables clear, secure, two-way communications. The product features a sleek, wireless, pocket-sized device that acts as a transmitter and receiver (a transceiver) and makes it easy for groups of two or more people to listen and talk with the push of a button. It is ideal for noisy, crowded and/or mobile environments such as manufacturing plants and factories, warehouses and other facilities where background noise from machinery and ventilation systems can make it nearly impossible to hear what others are saying. Applications in plant environments include VIP and prospective customer tours, safety training, new hire training, plant tours, production line communication and quality assurance.
With ListenTALK, speakers do not need to shout to be heard or position themselves so they are visible to listeners. This is important in large plants where speakers may be far away from listeners or in situations where they are not facing listeners, such as in demonstrations or tours. ListenTALK improves intelligibility of speech so there are no misunderstandings (no need for speakers to repeat themselves) or missed directions and safety warnings and the resulting down time these may cause. The product also reduces down time that can result when workers must stop what they are doing and move closer to speakers on the plant floor in order to see and hear them clearly over the din of heavy equipment.
"Listen Technologies is excited to be attending Reliable Plant 2018 and to have the opportunity to engage with so many factory and plant workers and learn more about the hearing challenges they encounter in their plants," said Juan Riboldi, COO of Listen Technologies.
Riboldi's team will be demonstrating ListenTALK in booth 115. "We look forward to showcasing ListenTALK and helping others see for themselves how easily the product facilitates team collaboration in loud environments so there is no need to shout or sign. The result is a more enjoyable, safe work experience and better productivity."