LA-350
8-Unit IR Charging/Storage Station
A simple solution for charging, storing, and displensing up to eight (8) stethoscope or lanyard IR receivers
This product is available through authorized resellers.
Request Info
Request Info
Fill out the form below to receive more information about this product. In addition we can help you explore additional solutions that may work better for you.
Overview

Download Product Data Sheet
The LA-350 8-unit charging tray from Listen Technologies provides a convenient and compact option for storing, charging, and distributing up to eight (8) LR-42 Stethoscope and/or LR-44 Lanyard Receivers in any combination. Additionally, the LA-350 can separately charge as many as eight (8) NiMH battery packs, giving you an easy way to have additional batteries charged and ready for customers and clients. Red and green LEDs indicate the charge status of each slot, and the tray can be mounted on a desk or wall to fit the needs of your venue and installation.
Includes
One (1) LA-350 8-Unit IR Charging/Storage Station
Eight (8) NiMH Battery Pack Charging Inserts
One (1) Tidy rack
One (1) Universal power supply
One (1) Manual
Highlights
Convenient option for storing and charging receivers or battery packs
Compatible with LR-42 and LR-44 receivers in any combination
Also charges up to eight (8) LA-364 NiMH battery packs
Permanently mountable to desks or walls depending on your needs
Automatic charging turns off power to each unit as it reaches full power
Configurations & Architectural Specs
Configurations
LA-350-01 8-Unit IR Charging/Storage Station (North America)*
LA-350-02 8-Unit IR Charging/Storage Station (Asia, UK)*
LA-350-03 8-Unit IR Charging/Storage Station (Euro)*
LA-350-04 8-Unit IR Charging/Storage Station (Australia)*
*01, 02, 03, and 04 designation refers to international plug type (type B, G, C, and I) for the power supply.
Architectural Specs
The charging and storage platform shall accommodate eight (8) receivers and eight (8) rechargeable battery packs. The platform shall independently charge each receiver. A bicolor LED shall be provided to show the status of the charging process. The platform shall be capable of being mounted on a flat or vertical surface. The unit shall employ a universal power supply that shall be UL/CSA, FCC, IC and CE, RoHS certified. The LA-350 is specified.
Product Specifications
Specification
LA-350

Indicators

| | |
| --- | --- |
| Bicolor LED | Red when charging, Green when charging is complete |

Power

| | |
| --- | --- |
| Power Supply Input | 100-240 VAC, 47-63 Hz |
| Power Supply Output | 7.5 VDC, 4.0 A |
| Power Supply Connector | 5.0mm x 2.1mm Barrel |
| Power Supply Type | In-line switching mode power supply, Listen part number LA-204 |
| Compliance | UL, CE Listed |

Physical

| | |
| --- | --- |
| Width | 13.6 in. (34.5 cm) |
| Height | 1.5 in. (3.8 cm) |
| Depth | 5.4 in. (13.7 cm) |
| Color | Dark Grey with White Silk Screening |
| Shipping Weight | 4.0 lbs. (1.8 kg) |
| Mounting | Desk of wall mount |
| Weight | 1.2 lbs. (544 g) |

Environmental

| | |
| --- | --- |
| Temperature - Operation | 14 ?F(-10 ?C) to 104 ?F(+40 ?C) |
| Temperature - Storage | -4 ?F (-20 ?C) to 122 ?F (+50 ?C) |
| Relative Humidity | 0 to 95% relative humidity, non-condensing |

Compliance

| | |
| --- | --- |
| Standards | FCC, Industry Canada, CE, RoHS |
Used With
NiMH Rechargeable Battery Pack for IR Receivers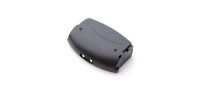 Rechargeable battery packs compatible with ListenIR receivers and offering up to 15 hours of uninterrupted use with each charge.
LA-364
Accessories
IR Stethoscope 4-Channel Receiver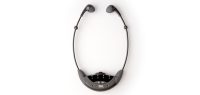 The LR-42 is an all-in-one IR stethoscope receiver that gives users clear audio across up to four (4) channels, and it is compatible with a wide range of transmitter models and manufacturers.
LR-42
IR Lanyard 4-Channel Receiver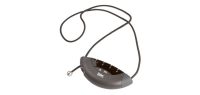 Four-channel infrared receiver featuring an adjustable lanyard and compact design for comfortable use and easy storage.
LR-44
7.5 VDC Replacement Power Supply for Charging Systems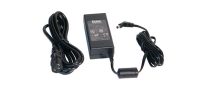 Replacement power supply for the LA-311 and LA-321 Charging/Carrying Cases.
LA-204
FAQ
Q
What is Listen Technologies product warranty?
A
Click for Listen's product warranty.
Q
How many receivers can I store/charge?
A
Up to eight.
Q
Can I charge LA-364 IR NiMH Rechargeable Battery Packs in this unit?
A
Yes, place the LA-364 units into the supplied inserts and place them in the charger.
Q
Is each receiver or battery pack charged separately?
A
Yes, the LA-350 monitors each battery pack/receiver separately and shuts down the charge to that battery when the charge is complete.
Q
Can I charge alkaline batteries in the LA-350?
A
No, alkaline batteries are not rechargeable. Do not attempt to charge these as damage may occur.
Q
Where can I use the LA-350?
A
Many places around the world. It has a universal power supply.
Listen Technologies Corporation
14912 Heritage Crest Way
Bluffdale, Utah 84065-4818
USA

Phone: +1.801.233.8992
Toll-Free: 1.800.330.0891
Request a Demo
Listen offers FREE 30‐day demos of any system. No risk, no cost and no obligation. Experience first-hand how Listen helps you capture every sound, in any setting.
Request A Demo