This product is available through authorized resellers.
Request Quote
Overview

Download Product Data Sheet
Consisting of our LT-803-072 Stationary RF Transmitter, LA-106 Telescoping Top-Mounted Antenna, and LA-304 Assistive Listening Notification Signage Kit, this complete package provides a simple and affordable option for getting a 72 MHz system installed and available to listeners right away.
Includes
One (1)
LT-803-072
Stationary 3-Channel RF Transmitter (72 MHz)
One (1) Power supply
One (1) Line Cord
One (1) Quick Reference Card
Highlights
Simple, affordable start-up package for your 72 MHz RF assistive listening system
Includes our LT-803 transmitter, LA-106 antenna, and the LA-304 signage kit to ensure awareness of your system and compliance
LT-803 transmitter broadcasts a 100% digital signal three (3) channels
Balanced and unbalanced audio inputs allow for use with any audio source
Built-in auto processor optimizes audio (voice or music) prior to transmission
VU level meter and test tone for simple installation and set up
30-day, no-obligation demonstration available for your venue or business
Configurations & Architectural Specs
Configurations
LT-803-072-P1 Stationary 3-Channel RF Transmitter Package 1 (72 MHz)
Architectural Specs
The LT-803-072-P1 Stationary 3-Channel RF Transmitter Package 1 (72 MHz) shall include (1) LT-803-072 Stationary 3-Channel RF Transmitter (72 MHz), (1) LA-106 Telescoping Top Mounted Antenna (72 MHz), and (1) LA-304 Assistive Listening Notification Signage Kit. The stationary RF transmitter shall be capable of broadcasting on one of any three channels – A (72.100 MHz), E (72.900 MHz) or H (75.900 MHz). The transmitter shall have a SNR of 62 dB or greater. The output power shall be adjustable to quarter, half or full. Channel tuning shall be capable of being locked. The device shall have an audio frequency response of 50 Hz to 15k Hz, '± 3 dB at 72 MHz. It shall have two (2) mixing audio inputs. The device shall have the following audio controls: input level, mix level and an adjustable low pass filter (contour). The device shall have an audio processor that is capable of automatic gain control and limiting. The Listen LT-803-072-P1 is specified.
CAD file(s)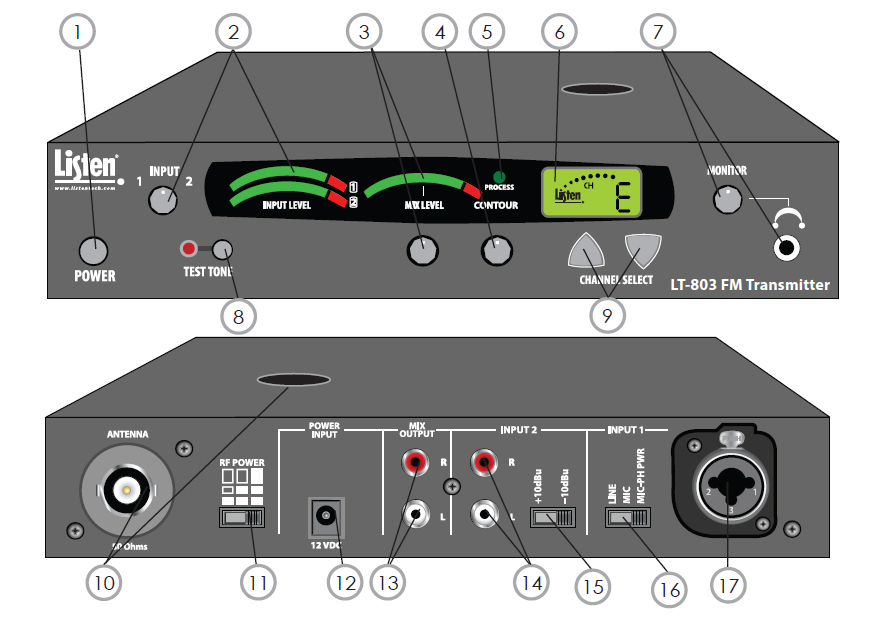 1. POWER BUTTON: Easy access from the front to turn unit On/Off.
2. INPUT 1 & 2 AND INPUT LEVEL INDICATORS: Adjust audio levels of Input 1 and 2. Dual VU meters shows audio Input 1 and 2 levels.
3. MIX LEVEL & MIX TRANSMIT LEVELS: Mix Level control sets level of mixed audio. VU meter shows the output level of mixed audio.
4. CONTOUR: Contour equalization Cuts/Boosts frequencies above 5 kHz.
5. PROCESS LED: Processing (automatic gain control and compression) can be turned on and off from the front panel.
6. LCD DISPLAY: Shows channel selected, channel lockout, and RF power.
7. MONITOR LEVEL: Earphone jack and volume control to check audio integrity of transmission source.
8. TEST TONE: The test tone level adds flexibility when setting up and testing system.
9. CHANNEL SELECT: UP/DOWN channel selection of 3 channels (A, E, H).
10. RF ANTENNA OUTPUTS: Top mount, rear mount, and remote antenna options.
11. RF POWER LEVEL: Multiple transmitter power settings (full, ½ and ¼) with indication on LCD display.
12. POWER INPUT: In-line power supply (included) attaches.
13. AUDIO OUTPUTS: Two (2) phono connectors for a mixed output of Inputs 1 and 2.
14. AUDIO INPUT 2: Two (2) unbalanced phono audio inputs. Select either +10 dBu or -10 dBu.
15. INPUT 2 LEVEL SWITCH: Set switch to match the level of Input 2 source.
16. INPUT 1 LEVEL SWITCH: Set switch for line or mic level. Phantom power available in Mic-PH power position.
17. AUDIO INPUT 1: Balanced XLR / ¼ inch audio input. Select either mic, line, or mic phantom power level for input. Electret (Condenser) microphones can be used with Input 1, mic, and phantom power.
Product Specifications
Specification
LT-803-072-P1

Physical

| | |
| --- | --- |
| Shipping Weight | 6.0 lbs. (2.7 kg) |
FAQ
Q
What is the range of the LT-803-072 transmitter?
A
Line of site up to 305 m (1,000 ft.) with remote antenna.
Q
Does the LT-803-072 include the rack mount?
A
No, but an LA-326 Universal Rack Mounting Kit is available for purchase. Antenna options for rack mounting also available.
Q
Is there a limit to the number of LT-803-072 transmitters I can use in one room?
A
Yes. The maximum is (3) three.
Q
Is the LT-803-072 compatible with Listen's other receivers (LR-300-072, LR-400-072, LR-500-072, LR-100-072, and LR-600-072)?
A
Yes. Remember, the LT-803-072 has only three (3) channels (A, E, H) therefore the receiver will need to be tuned to one of those channels. Also, the SQ (Super Quiet) function must be turned off on the receiver.
Q
Do I need a transmitter for each audio source?
A
Each audio source requires a transmitter.
Q
How many receivers can I have on a system?
A
As many as you want. The transmitter simply transmits a signal and you can have as many receivers pick that signal up as necessary. It's like a radio station transmitting and the receivers are the radios tuning into the "channel".
We've been impressed by the Listen system's ease of use (and installation), as well as its flexibility. The difference between your system and what we had been using is amazing. Patrons are happy and thus, so are we.
James D. Anderson
Director of Audio, McCallum Theater