The morning rush is something none of us look forward to, but what if you could have a scenic experience that takes you to work, gets you there on time, and offers a story or two on the way? Or as a visitor to the area, you decide to take a scenic tour and get the full story experience on a scenic riverway? That's the Potomac Riverboat Company experience with Captains Chris and Dave every day in Washington, D.C. and Alexandria, VA.
"We have 3 main tours that take visitors to destinations along the river. It's a much friendlier experience than other travel options, and visitors get to hear all about the history and recent events as they take the tour," says David Whanger, Director of Operations for Potomac Riverboat Company.
Owned by Entertainment Cruises, Potomac Riverboat Company has just added a new audio experience that delivers state-of-the-art sound and creative commentary that has people talking.
"We see the power of creative storytelling," says Whanger. "People are interacting, talking about what they are seeing and hearing, and using their phones to text and post their experiences on social media."
Whanger and a group from Entertainment Cruises experienced a creative storytelling tour first-hand in another city and were amazed by the reaction of visitors on the tour.
"People were hearing stories in their own languages in perfect sync and interacting in a way that enhanced the tour for them. There was laughter, sharing, and even some tears. Everyone was talking about it as they hopped off the tour," says Whanger. "We wanted that for our visitors."
Marketing Manager, Courtney DeFrancis agrees. "Our passion is to provide unforgettable experiences for our guests. Stories people can connect to and write home about enhance that experience."
The boat line has 12 vessels that carry passengers to 8 destinations with various stopping points. The Monuments Tours and Mount Vernon Cruise take passengers past sites such as the Jefferson Memorial, Arlington Cemetery, Kennedy Center, George Washington's Mount Vernon Estate, and District Wharf and Georgetown in Washington, D.C., as well as Alexandria, VA and National Harbor, MD.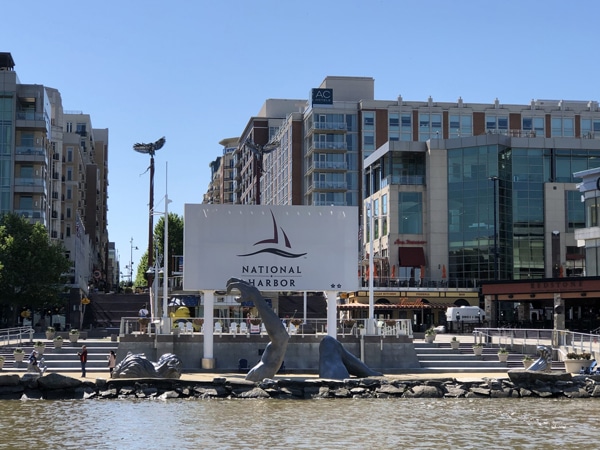 "The challenge was to write audio commentary that could easily be shifted to another tour or boat with the touch of a few buttons. Our Navilution system does that seamlessly, so that's one less thing to worry about when we're shuffling routes and vessels," says Whanger.
Another major challenge for the operators was to see the tour through visitors' eyes. "We are the only boat line that transports to all those attractions," says DeFrancis. "We see them every day, but to our guests, those sites can have a totally different meaning. We needed help to see the destination through fresh eyes."
Professional storytellers from AudioConexus, Ange Berlin and Iyna Caruso, took Whanger and DeFrancis on their own tour for a day of discovery. "They asked a lot of questions," says Whanger. "They had us go out and experience the city as a guest, pointing out what the visitor would be able to do and want to do, and flushing out every single thing about the visitor experience."
The excursion was fun but also revealing, as they started to see new ways to experience their destination. "A lot of times, a tour operator is so involved in day-to-day operations, they don't see the forest for the cherry trees," says Berlin. "We see every tree and each monument, building, and city scape, as well as the stories hidden behind them."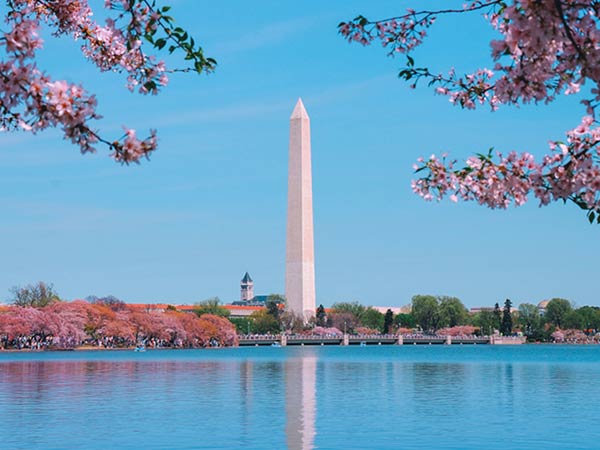 DeFrancis found the experience a revelation. "They took us for ice cream, sat on park benches, went out on the water, and walked Old Town Alexandria with us. It was so much fun, we forgot we were working. Talking to people at the sites and following visitors around, we soon found that all kinds of stories emerged."
Those stories developed into audio scripts that dug deeper into the personality and lifeblood of the destination. "It was like getting to know our city all over again," says DeFrancis.
Scriptwriter for the project, Iyna Caruso, found the experience produced a treasure trove of material for the destination stories. "With the insights and perspectives of Dave, Courtney, and the rest of the team, we were able to really get a sense of this global powerhouse city on a very personal and accessible level."
Multicultural and accessibility aspects were considered in the stories as well. "Sometimes what resonates with someone from North America is different from what is important to people who come from Asia," says Berlin. "We look for sites that foreign visitors will find intriguing, and we dig for stories about those as well."
One of the most popular tours offered in the spring is the National Cherry Blossom Festival. Visitors come from all over the world to see the trees bloom. "People are deeply affected by the sight, and there are as many stories about the people who come to see it as there are about the history of the trees in Washington, D.C.," says DeFrancis. "It really reminds some of home, and others are just overawed by how beautiful it is."
Another poignant site is Arlington Cemetery. Not only the history resonates with visitors, but the present-day stories about this site are deeply emotional as well. "We wanted to relate the sense of service and sacrifice of this sacred place that is so moving, not only to Americans but to all of us as human beings who love our countries," says Berlin. "It's a quiet moment on the tour and one we wanted to get right."
Taking the time to tour the destination, to look for the stories behind the stories, and create an experience for visitors that will enhance the operation of a tour takes time and dedication.
"We want to create an experience that visitors will remember for a very long time," says Caruso. "Some of them have traveled a thousand miles to see something extraordinary or come from across town for a day of discovery. Showing them the vibrancy, beauty, and uniqueness of this destination with all its hidden stories and history is a powerful opportunity to connect with people from all cultures and backgrounds."
Whanger and DeFrancis agree. The new audio tour was installed in May 2019 and is popular with visitors, who flock to experience the city and its stories from the river.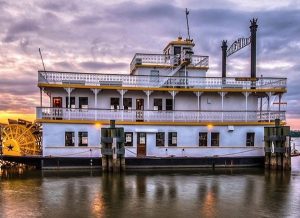 "The level of immersion that takes place in creating a tour is extraordinary, and that's something very special about AudioConexus's approach," says Caruso. "A single story in an attraction that's maybe one minute long is often the result of preliminary research, multiple interviews, and hours spent on-site."
The technical aspect of the system is another big win for the tour operator. The quality and ease of operation for the GPS triggered audio is world class, making the experience seamless for both captains and guests. "We can adjust trigger points in seconds," says Whanger. "Our captains found it user-friendly and trouble-free right from the start. And it's upgradable, so we can change routes without re-recording."
Having an audio tour system with the functionality, effective architecture, and enhanced storytelling across shared routes is a game-changer for Potomac Riverboat Company. "It's a win-win for visitors, guides, and captains," says DeFrancis. "It's interactive, easy to use, responsive, and interchangeable. And the visitors love it. What more can you ask?"
What's Your Next Story?
Want to know more about the business of storytelling for audio tours? Talk to AudioConexus today or read our blog on The Inside Scoop on Audio Tour Writing.