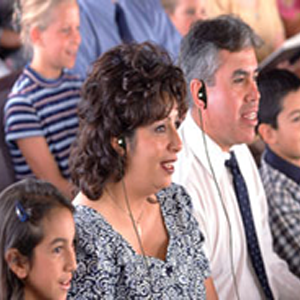 Wireless hearing assistance transmission systems with Assistive Listening Devices (ALD's) have been a standard component in venue sound installations for decades, encouraged by the Americans with Disabilities Act legislation passed in 1990.
ALD's with headphones and neck loops provide an enhanced listening experience for a wide variety of listeners, those with and without disabilities, and has many other applications, including language translation, audio description, program audio (TV and music), and guided tours.
A good microphone system is essential for an ALD. The benefit of "zooming in" to the direct sound and eliminating background noise is the fundamental benefit of an ALD. This can only be achieved using close microphones for speech, and well-engineered mixing (not too many open microphones, good level between program audio and speech, no feedback hum or buzz, etc.). An assistive listening system of any type cannot work without a good microphone system.
The most common type of ALD wireless transmission is "FM", which uses a radio signal to listener's receiver units. IR (infra-red) is another type of transmission and follows the same transmitter-receiver model. The ALD units are typically kept at the venue, where they are picked up and dropped off "at the door" by users.
Federal legislation requires public venues to have ALDs available. It is an unfortunate fact that many installed FM and IR assistive listening systems are rarely used due to lack of signage, poor maintenance, locked closets, dead batteries, or inadequate microphone performance. Also, many facilities are unaware that personal neck loops can replace headphones (plugged into the ALD receiver) to benefit t-coil users, and so do not have neck loops available.
For this reason, an installed "loop system" for users who have t-coil hearing aids is attractive.
Loop Systems
"Loop" systems use another type of transmission: inductive field energy from alternating current flowing through coils, loops or long wires. The advantage of this type of transmission is that inductive receivers are built-in to many hearing aids, so an ALD (receiver) is not required to listen to a loop signal. This optional hearing aid feature is called a "telecoil" or "t-coil". It was developed for use with telephones. When the user switches their hearing aid to T-coil they pick up inductive field energy instead of acoustic sound. If the inductive field is modulated with a good audio signal (like a telephone earpiece or a well-designed loop system) then no other listening amplification device is needed.
Considerations
T-coil users can benefit from an assistive listening system by using a personal "neck loop" instead of a headphone. Neck loops should be included with headphones as part of any well-managed system, along with, signage, spare components, and regular testing.
As telecoil hearing aids are recommended by more audiologists, and installed loop systems become more prevalent in the US (as they are in Europe) installed loop systems should be considered by venues wishing to offer the widest possible access. There are two strong advantages: eliminating "pick up and drop off" and the high-quality processing of embedded hearing aid technology.
"Pickup and drop-off" receivers will still be necessary for patrons without t-coils who want to enjoy the advantage of direct amplified sound.
Relative Cost
FM systems are the easiest to install, more prevalent, and the least expensive. The equipment for a 15 unit system, including neck loops, could cost less than $2,500.00. For about $600.00 more, a portable transmitter could be added for use in other locations or for tours. Installation could be as little as $300.00 if a good quality PA system is already in place.
IR systems require more installation and the equipment tends to be about 25% more expensive than FM. Its advantage is security and isolation from adjacent rooms, as the audio signals (light beams), cannot go through walls. It is not portable, and cannot be used outside. Neck loops can be used with both FM and IR systems.
Loop systems for large areas require careful engineering and extensive installation of long wires around room perimeters under carpets or in ceilings. They are not portable.
Keep in mind that any assistive listening system is only as good as the sound of the microphones going into it, so a quality sound system needs to be factored into pricing.
Regarding loop costs, the following is quoted from www.hearingloop.org October 2011
Typical costs range from $2000 to $8000 for small to medium-sized worship centers, but more for very large facilities with lots of embedded steel. Most congregations' loop systems will cost no more than what one of their members would pay for a pair of today's high tech hearing aids.
When comparing loop system costs to alternative listening systems, consider what counts: cost per user.
(A system that costs slightly more, but has many more eventual users, will be most cost-effective.)
Also, loop systems can be used without the additional expense of purchasing and maintaining portable receivers and headsets (although many venues will purchase one or more loop receiver/headset units for possible use by those without suitable hearing aids).