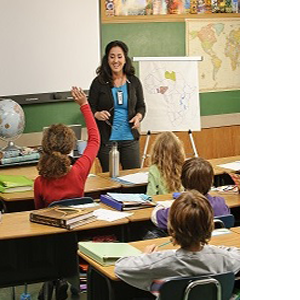 Let's face it. Other than parents, teachers have the greatest influence over children, so it is essential that students hear well in the classroom. That's why we released ListenPoint 2.0, our latest Soundfield solution—we wanted to make learning limitless.
Can you imagine what the world would be like if Shakespeare had never learned to read? What if Einstein hadn't had the opportunity to learn calculus? How different would our lives be if Steve Jobs couldn't hear his kindergarten teacher? Without Jobs, we'd all still be using those crazy brick cell phones from the 1980's! #lame #nomobileapps #howwouldiplaycandycrushsaga
Students learn best in environments where they can focus on what their teachers are saying. Unfortunately, several factors can get in the way. Some students have trouble focusing because they have hearing loss or are too far away from the teacher. Meanwhile, the classroom itself might have poor acoustics, or the teacher could have a strained voice from talking too loudly or too long.
In today's classrooms, students have a lot of creative and innovative thinking to do. ListenPoint 2.0 helps them put their imaginations to work. It can also have a positive effect on their grades and test scores.* #bettergradesareawesome #A+ #listenpointisgenius
ListenPoint 2.0 delivers the following key benefits:
With mission critical deployments, it is the most advanced, flexible, scalable Soundfield system delivered by a trusted authority in the pro-AV market.
It incorporates AV technology and assistive listening systems to create enhanced and enriched learning environments for all students.
It is easy to install, operate, maintain, and adds more functionality over time.
It couples competitive pricing with advanced features.
We are truly excited to be part of a noble mission—educating students to become extraordinary people.
*The Marrs Report, 2006