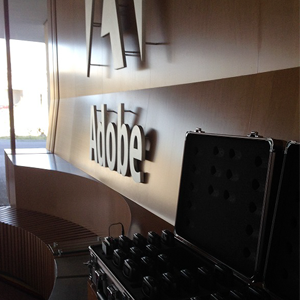 Imagine, if you will, being a working member of the AV industry and having the opportunity to tour one of the most advanced AV spaces in the world. You'd feel as excited as Charlie Bucket pulling a golden ticket out of a Wonka Bar.
As one of the final events of
AV Week
,
Listen Technologies
, along with many others in the AV Industry, had the opportunity to take our
tour guide equipment
on the road and use it to tour the incredibly impressive
Adobe
building in Lehi, Utah. The space is so impressive that it feels odd to call it a mere building; it works more like a big, creative campus where employees are encouraged to eat, drink, rock climb, play, think, collaborate, and yes…even get work done from time to time.
There are probably many people who would love to wander through the incredible spaces at Adobe, especially on a guided tour using Listen equipment—it's a great experience! But for those of you who haven't had the opportunity yet, please sit back and enjoy my description.
When first entering Adobe, you're taken through what is known as the Customer Experience Center. This is an area that highlights all of Adobe's clients with 40, 10.2" video monitors. Each monitor digitally displays a client's logo along a long hallway; the videos are on a continual loop throughout the day along with interesting statistics provided by Adobe. Visitors can have an interactive experience using the three 2 x 2 video walls and touch screens to find information of their liking. This was a very interesting way to start the tour as it highlighted some of the things that Adobe provides clients that many people don't often consider. In other words, Adobe isn't just about software updates; they also provide their clients with serious marketing research and data.
Once you are through the hallway, you reach the Network Operation Center, or as they refer to it NOC! NOC houses 24 NEC LCD displays, which are wall mounted with RP Visuals swing wide mounts. The video routing and room control is accomplished using Crestron Digital Media and control products. The Crestron touch panels allow employees to monitor specific company systems and other important statistics that are essential for daily operations at Adobe. For example, an employee can monitor anything like how many hits the Adobe site is getting per day to specific #hashtags being used on various social media sites.
There are many other incredible spaces at Adobe, as well. Their training rooms and collaborative meeting rooms (all named after creative geniuses, artists, or sports legends) are all equipped with state-of-the-art technology. All of these rooms have a combination of a number of projectors, monitors, PC's, Blu-Ray player, connections for VGA, HDMI, and mini HDMI, gooseneck and wireless microphones, and a touch panel to control the system. The rooms also have Polycom audio and video conferencing systems and Ploycom EagleEye Director cameras that allow others to learn from other Adobe locations all over the world.
The more collaborative spaces are less formal and lend themselves to more creative thinking. These rooms all house a Wink paint surface, which allows a user to write and draw their meeting ideas on the wall with markers. If the user wants to save his or her notes, there is E-Beam technology build into the projector, which will capture what has been written or drawn on the wall and save it to the PC in the room.
Adobe employees also have the benefit of an onsite fitness center, a café, and many different game rooms. Televisions showing satellite programming are installed throughout these spaces for employees to catch up on news. Digital Signage monitors are placed throughout delivering employee communications created by Adobe employees. From menu items and specials to upcoming fitness classes AV is a part of their communication. Although it was closed during the tour, the lower level boasts a serious gamer room (I'm not sure what serious gamer means, as I've never been serious about video games, but it sounds pretty intense). And the upper level has a room with ping pong and billiards tables, as well as some old school arcade games. There's also a basketball court and outdoor spaces for employees to relax or play sports.
There are also some incredible art pieces located throughout the building, the most notable of which was the spray painted mural by
El Mac
, which is located near the most communal area of the building.
Andrew Smith
was commissioned to install another great piece in the stairwell. It's a 50 foot, interactive, metal sculpture that climbs up the open space of the main between the main and top levels. Between floors employees and visitors can take various colored balls found in baskets and feed them into the sculpture. The balls them zoom down to the main level. I think I'd spend more time with the art than in the serious gamer room, but to each their own, right?
Even as a new member of the AV industry, I felt like I'd won a golden ticket while touring the Adobe building. While I didn't understand all of the impressive technical terms, I knew that what I was experiencing made for a great environment in which to work. It is definitely a space where technology works seamlessly hand-in-hand with collaboration and creativity.